We have received many reports of fake emails seemingly from Doccle, asking you to click on a link to view a document in your Doccle account. 
Please do not do this! Beware. It is an attempted scam.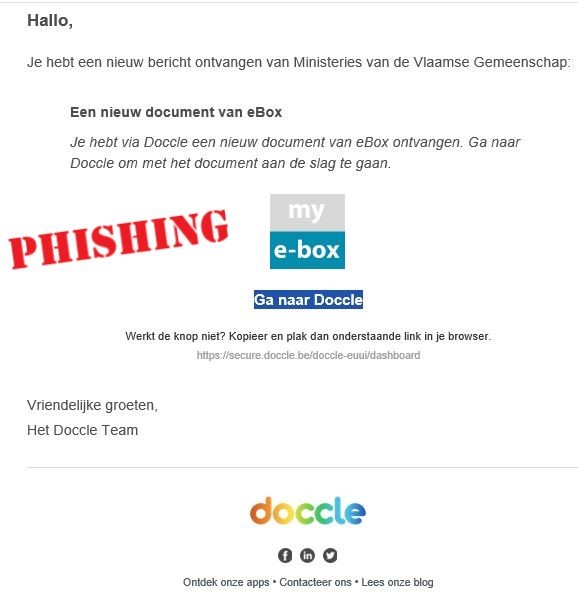 volledige breedte
How to spot fake mails?
The language of the mail is important: if you are Dutch-speaking, Doccle will never send you messages in French and vice versa.
Check the sender's e-mail address.
Check the link WITHOUT clicking on it. Move your mouse over the "Go to Doccle" button. At the bottom you will see the url of the website. Doccle will always direct you to their own website: id.doccle.be, ebox.doccle.be or secure.doccle.be If it says something else before .be, the website is fake and you should not click. You will see that the link in that case does not lead to Doccle.
Do not click and forward the message to

[email protected]

.
What to do if you are not sure?
Surf to https://doccle.be. Here you can securely log in to your Doccle account and check whether you have received a new message. Government documents additionally appear in your eBox, and you can double-check via https://myebox.be.
Useful link