Beware of phishing messages that mimic a notification from eBox. This message says that you have to pay a traffic fine from FPS Justice. When you click on the link, you are directed to a website that is a copy of myebox.be. You will be asked to log in and fill in your bank details. Do not do this under any circumstances!
How do you recognise this fake e-mail?
The e-mail address of the sender is myebox[@]onmnam.email. This is not an e-mail address of the federal government. My e-box only sends messages from the address myebox.noreply@bosa.fgov.be.
Messages from My e-box will always address you by your name.
If you click on the link in the e-mail, you will be directed to a website with a fake URL. You can already check the URL by hovering your mouse over the button. The URL appears in the top right corner (example below).
Login to online government services is done via CSAM, where you have the choice between various digital keys (such as eID, Itsme, mobile app, etc.). On the forged website you only have the possibility to log in by means of a user name and password. Do not do this.
My e-box will never ask for your bank details
What to do if you receive this e-mail?
Do not click on the link in this e-mail, and do not under any circumstances pass on your bank details. Forward the message to suspicious@safeonweb.be. 
volledige breedte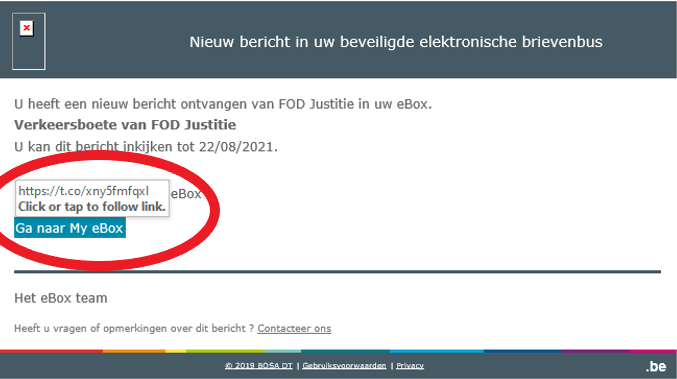 volledige breedte