We have recently received a number of reports of a scam involving emails pretending to be Itsme® . This is a telephone variant of known Itsme® account synchronisation scams.
You are asked to confirm an Itsme® transaction made from a device that is probably not yours and from a geographical location that does not correspond to yours (see screenshot below).
The aim is to get you to react quickly and call the number to block the transaction. This number is obviously fraudulent and the best thing to do is to delete the message and certainly not to call and/or follow any instructions given.
As you can see, the aim is to get money out of you. And criminals are never short of imagination. So always remember the right reflexes (see below).
Reminder of a few good tips concerning Itsme®
itsme® will never contact you by e-mail, SMS or telephone to ask you to reactivate your account, update your app or re-enter your bank details because of a suspicious connection.
Want to reactivate your account? Always start with the itsme® app or via www.itsme.be/en; never follow a link in an e-mail or text message.
Never give out your bank details over the phone or via (a link in) an e-mail.
More info: https://www.itsme-id.com/en-BE/blog/louche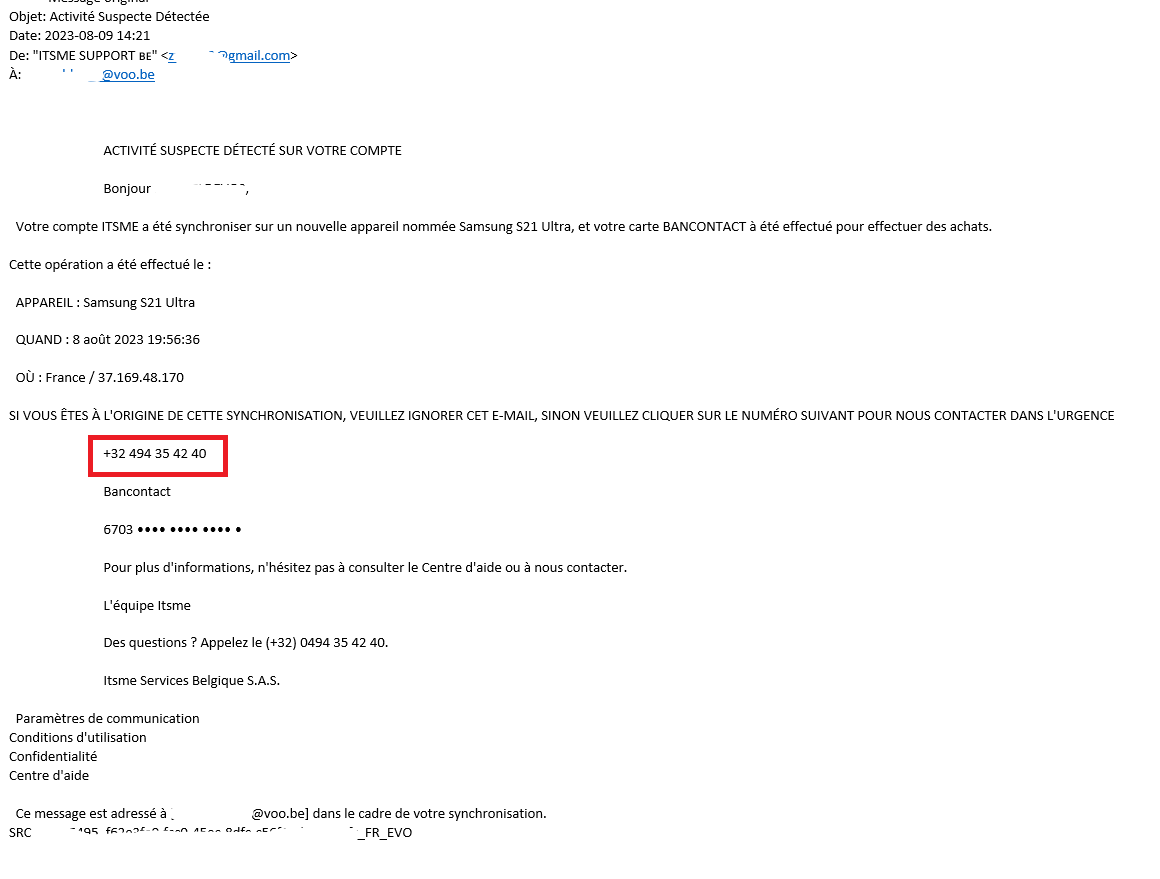 volledige breedte
What to do?
Do not click on a link in a suspicious message, do not open attachments and do not download applications if you are asked to.
Suspicious emails can be forwarded to 

[email protected]

.
Suspicious text messages can also be forwarded. Take a screenshot and send it to 

[email protected]

. The content is then processed automatically.
Did you click on a suspicious link?
If you have clicked on the link, do not complete the fields and terminate any interaction.
NEVER give out personal codes.
If you have entered a password that you also use elsewhere, change it immediately.
If you have clicked on a link that opens a website where you have to submit bank details, first check that this is the real website of your bank. If you have the slightest doubt, do not make a payment.
Have you been scammed?
If you have lost money or are being extorted, we recommend that you file a report with your local police straight away.
Contact your bank and/or Card Stop on 078 170 170 (+32 78 170 170 from abroad) if you have passed on bank details, money is disappearing from your bank account or if you have transferred money to a scammer. In this way, any fraudulent transactions can be blocked.