A lot of fake e-mails, text messages and WhatsApp messages in the name of Fluvius are circulating. In these, scammers impersonate employees of the grid company. This is how they try to gain citizens' trust, and then make off with money. 
Some recent examples
Scenario 1: You are entitled to compensation or a premium!
You receive a message via SMS or Whatsapp that you can get a refund or reimbursement from Fluvius. You are asked for bank details in order to make the so-called refund. These are fake messages. Fluvius itself never sends text or WhatsApp messages asking you to carry out financial transactions or forward bank details. Fluvius only sends text messages with practical info about your appointment or power cuts. These messages never ask for financial transactions and/or bank details. Fluvius also never starts a new Whatsapp conversation itself. Company employees only respond via the app when the customer starts a conversation via the website www.fluvius.be or via www.mijnfluvius.be.
Scenario 2: Meter reading
You receive a message regarding your gas and/or electricity meter readings. The message states that a recalculation of those meter readings is required. As a customer, you would then receive an energy fee or penalty. This is false information, and the URL provided is incorrect. The correct URL for entering meter readings is https://mijn-meterstanden.fluvius.be/. All other URLs are not reliable!
The recent examples below are all in Dutch. But watch out: these messages were also reported to us by French speakers.  In the examples, pay attention to the URL or the sender of an e-mail: they do not refer to fluvius.be and are therefore highly suspicious.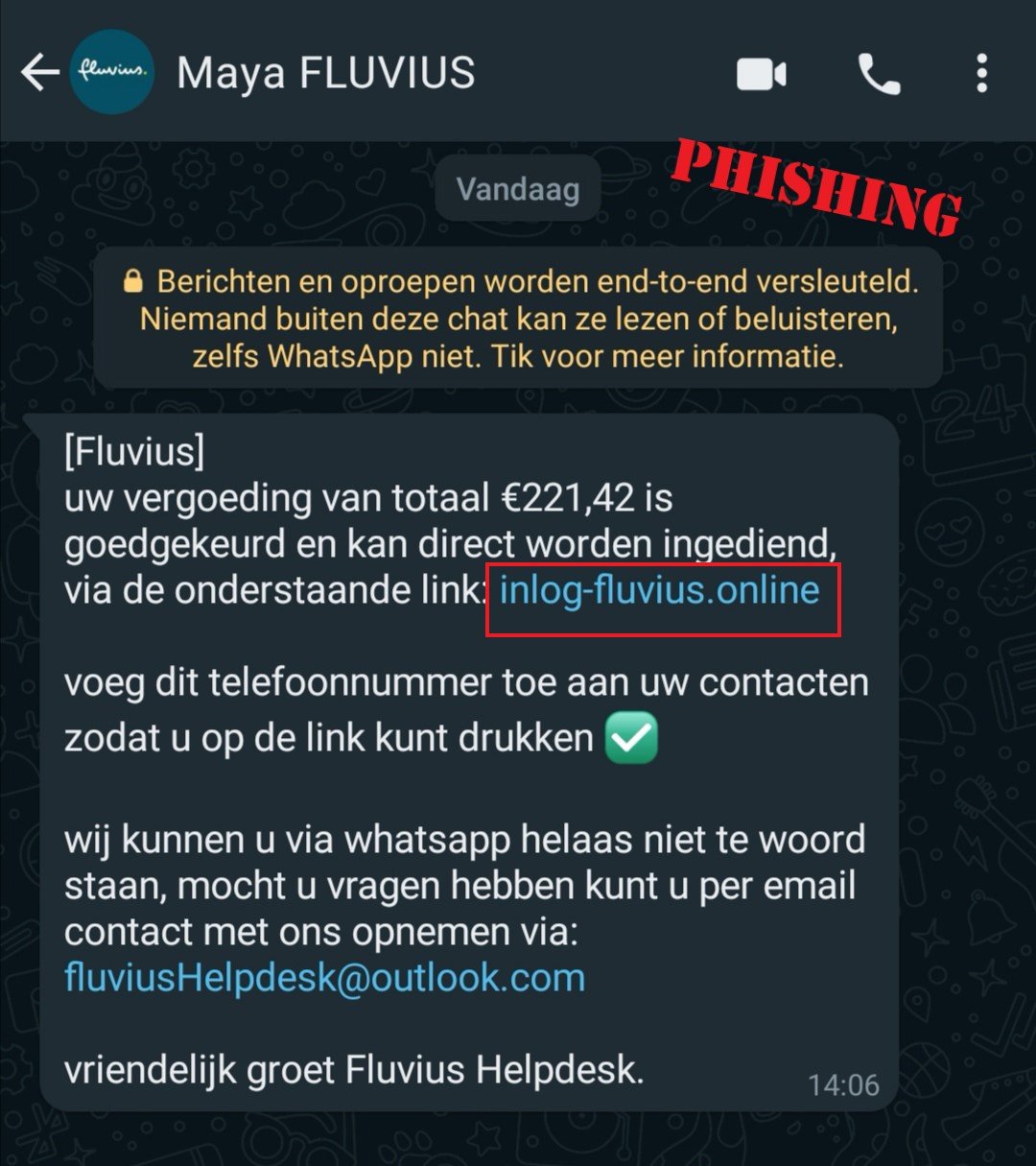 volledige breedte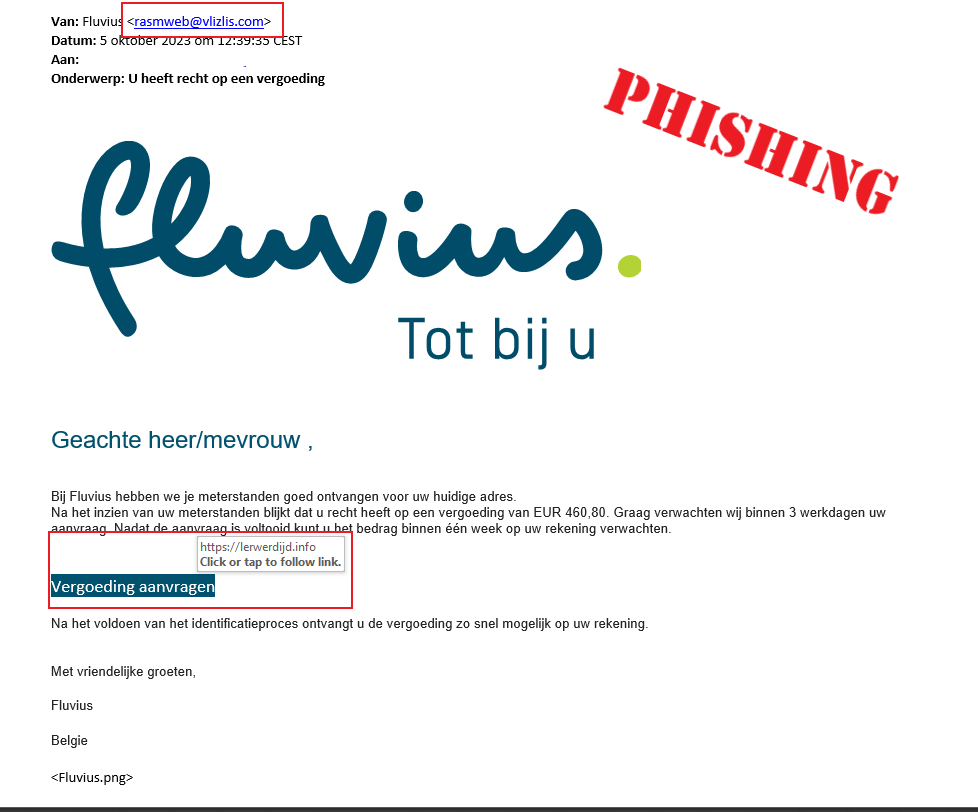 volledige breedte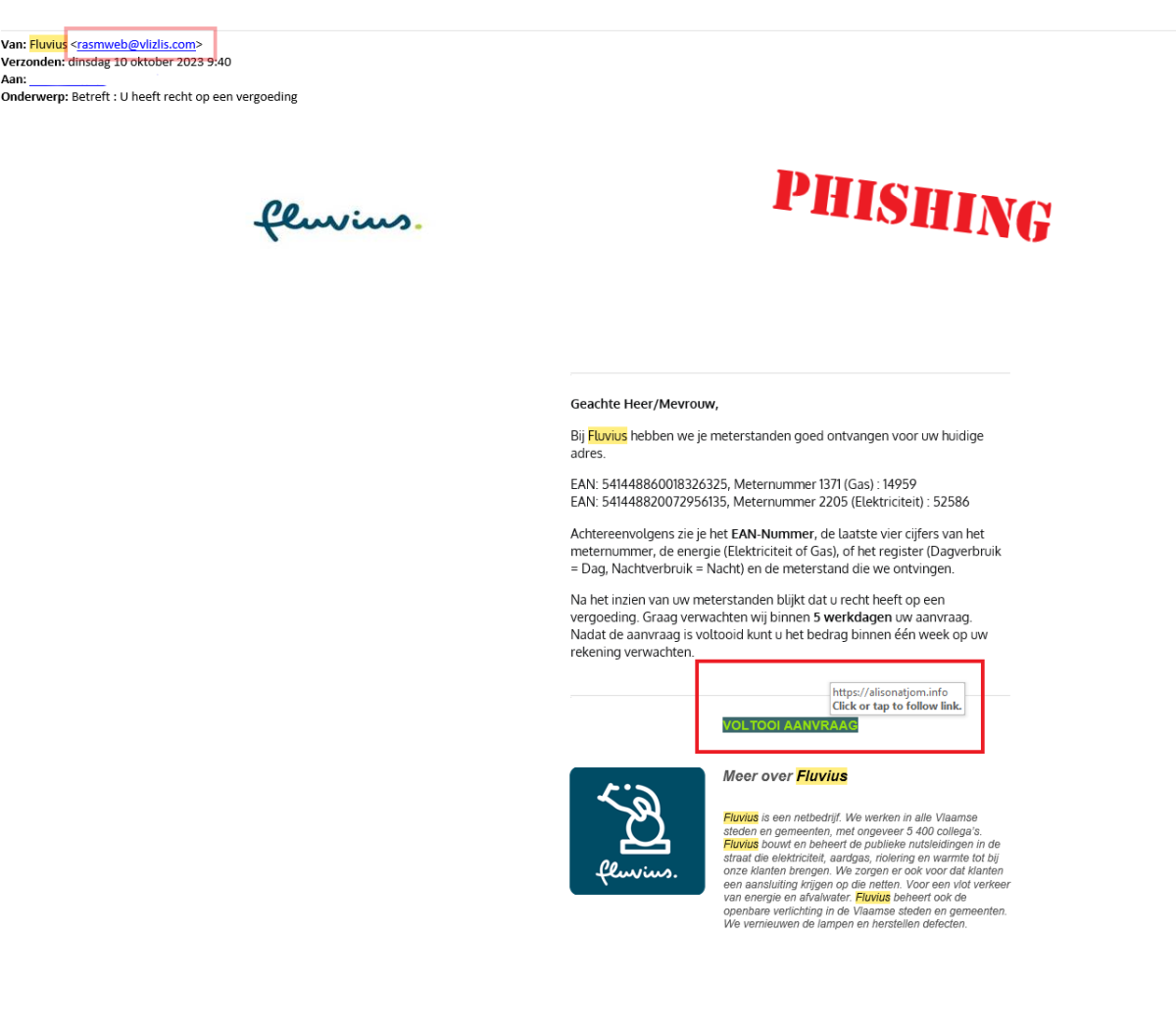 volledige breedte
In doubt?
Read more about phishing on behalf of Fluvius on the Fluvius website.  There you can find more tips on how to recognise a genuine message from Fluvius.
Are you still in doubt whether an e-mail, SMS or Whatsapp message comes from Fluvius or not? Then contact Fluvius customer service.
More info on phishing?
Learn to recognise suspicious messages: go to https://surfwithoutworries.safeonweb.be/en/modules