Last year, Internet users forwarded no less than 4,575,336 messages to the e-mail address suspicious@safeonweb.be, which is more than 12,000 messages per day. In 2020, 3,225,234 messages were sent to us.
What do we do with these 4.5 million messages?
It is distressing to see that cybercriminals are sending more and more messages with the sole aim of tricking Internet users. These messages arrive not only by e-mail, but also by SMS or via social media. Of course, we do not read all the messages you send to suspicious@safeonweb.be; their analysis is automated.
This analysis starts with the detection of links and attachments. From the 4.5 million messages we received, we extracted 8,109,157 links, of which 1,414,818 were fraudulent (phishing, fake e-shop, scam, etc.). We then forward these suspicious links to Google Safebrowsing and Microsoft Smartscreen, which in turn publish an alert message. If a user clicks on one of these links, a red screen will appear with a clear message: beware, the page you are trying to visit is dangerous.
What were these phishing attempts about?
You may have received a message appearing to come from Itsme asking you to reactivate your account using your bank details.
volledige breedte
People have also reported emails appearing to be from a bank, encouraging them to log in with their bank details in order to read a message, renew their bank card or unlock their account.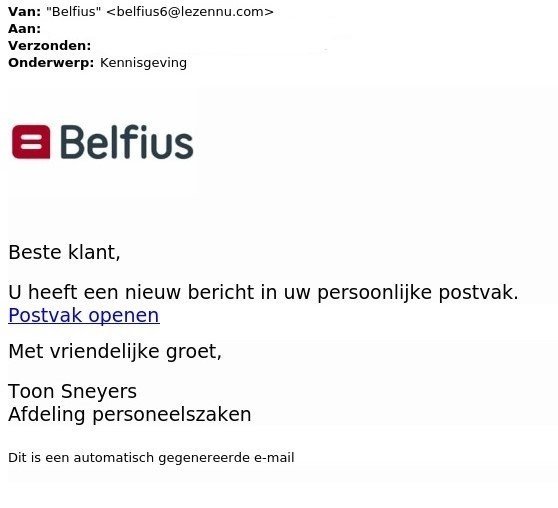 volledige breedte
There have also been reports of messages in the colours of a delivery service, asking you to pay a delivery fee first.

We have received messages that appear to be from eBox, encouraging you to log in with your bank details in order to read a new message.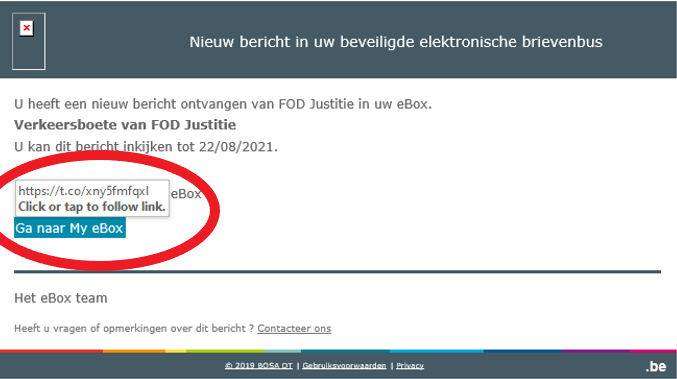 volledige breedte
Other examples include messages that appear to be from a government agency promising you a bonus or compensation, or messages that are based on current events (masks, parties, bonuses, etc.).
Learn to recognise fraudulent messages.