In recent weeks, many phishing messages that appear to come from antivirus software have been circulating.  The message warns you that your subscription is about to expire and your computer is no longer protected. Beware as such messages are often scams.  
Below you can see 2 examples that appear to come from Norton Internet Security and McAfee. Both examples are fake. The e-mail address used to send the messages is not the e-mail address of Norton or McAfee.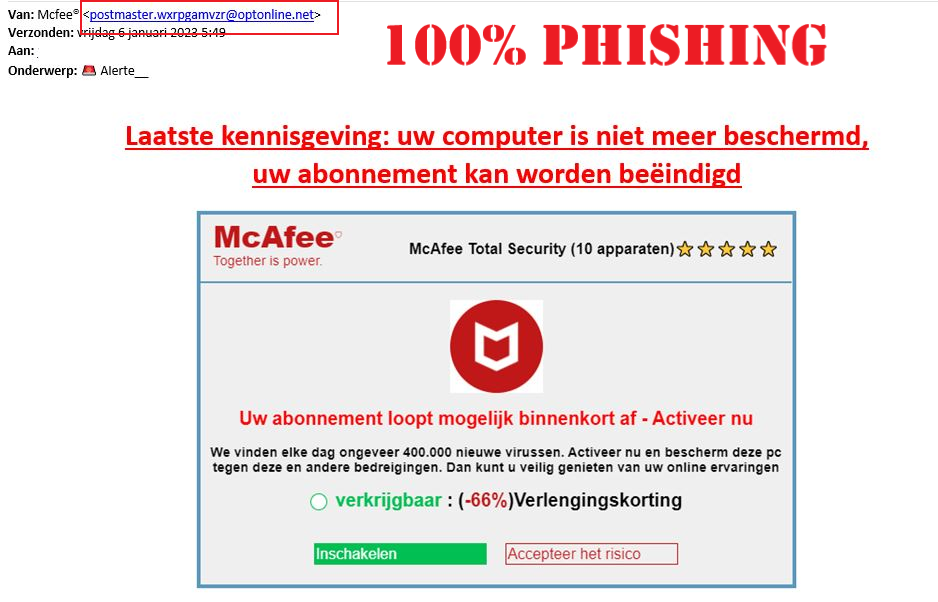 volledige breedte

volledige breedte
Have you received such a message and in doubt?
Definitely do not click on the link in the message, but search for information about your virus scanner yourself.
Go to the settings / control panel > security settings of your computer. There you can see if you have a virus scanner set up.  If not, we recommend installing an antivirus software. Read more about antivirus software.
If you have a paying subscription to a virus scanner, go to the antivirus software's website and log into your account.  You can then check whether you really need to renew your subscription or not.
What to do when you receive a suspicious message?
Do not click on a link in a suspicious message, do not open attachments and do not download applications if you are asked to.
Suspicious emails can be forwarded to suspicious@safeonweb.be.
Suspicious text messages can also be forwarded. Take a screenshot and send it to suspicious@safeonweb.be. The content is then processed automatically.
Did you click on a suspicious link?
If you have clicked on the link, do not complete the fields and terminate any interaction.
NEVER give out personal codes.
If you have entered a password that you also use elsewhere, change it immediately.
Have you been scammed?
If you have lost money or are being extorted, we recommend that you file a report with your local police straight away.
Contact your bank and/or Card Stop on 078 170 170 (+32 78 170 170 from abroad) if you have passed on bank details, money is disappearing from your bank account or if you have transferred money to a scammer. In this way, any fraudulent transactions can be blocked.