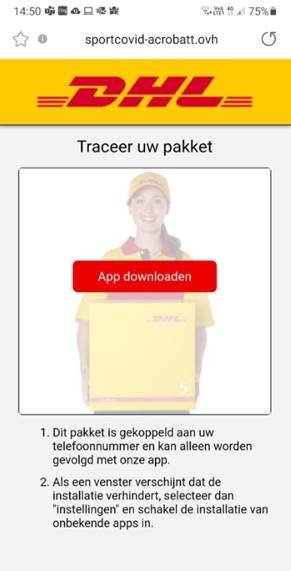 rechts uitlijnen
A suspicious text message is circulating that seems to come from a parcel service.  If you click on the link, you will be asked to download an application to track your package.  Do not do this, because this way your device will be infected with the dangerous Flubot virus. 
Android device users are vulnerable to this. You can greatly reduce the risk of smartphone viruses by only downloading applications from a standard application store, Google Play Store. If you get a message during the installation of an app that prevents the installation or warns about its safety, do not proceed. Users of iPhones use Apple's App Store by default and are therefore at less risk.
Some more tips for safe use of apps
For Android devices, make sure that Google Play Protect is enabled if your device supports it
Regularly delete applications you do not use and frequently check the data your applications use to detect inappropriate traffic.
Restrict access of your applications to what is strictly necessary. For example, a calculator app does not need access to your location or contacts.