In recent weeks, we have again received many reports of fake e-mails and text messages sent in the name of the FPS Finance which look very credible.
How to recognize these messages?
The sender's e-mail address is not an official address of the FPS Finance, namely @minfin.fed.be or @mailing.minfin.fed.be. Fraudsters sometimes use an e-mail address that closely resembles the official address (e.g.: @minfin.fgov.be, minfin.fed.be@europe.com; @minfin-fed.org, etc.).
They ask for confidential bank information to be shared via email, SMS or WhatsApp.
The story is too good to be true or the message is totally unexpected.

Out of the blue, you receive a message saying they are going to pay you back a certain amount.

You are asked to settle a debt, but you have no idea what it is about.  
Are you in doubt whether a message is real or fake? 
Find out more via the website of the FPS Finance.
What do you need to do?
Forward these messages to

suspicious@safeonweb.be

and delete them.

You should never click on the link or a button behind which a link is hidden, if you are not 100% sure.

If you have given your bank details, notify your bank and Card Stop immediately on

078 170 170 (+32 78 170 170 from abroad)

.

Report this to the police.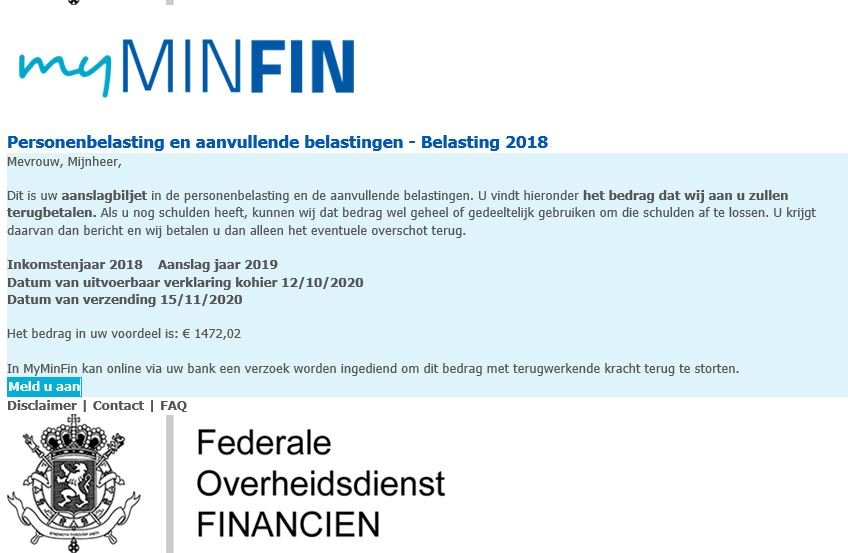 volledige breedte