Unfortunately, we are still seeing phishing attempts under the appearance of an eBox message: they are fake invitations to the Corona vaccination.
[The message is translated from Dutch, but you may receive it in another language]
Dear Sir or Madam,
You have received a message in your My-Ebox (from the Brussels Authorities/Flemish Community/AVIQ/Deutschsprachige Gemeinschaft).
Invitation to the compulsory vaccination against COVID-19
You can read this invitation until xx/xx/xxx
Answer this invitation now via My-Ebox [button].
As usual, the right thing to do: do not identify yourself and above all do not give any bank details!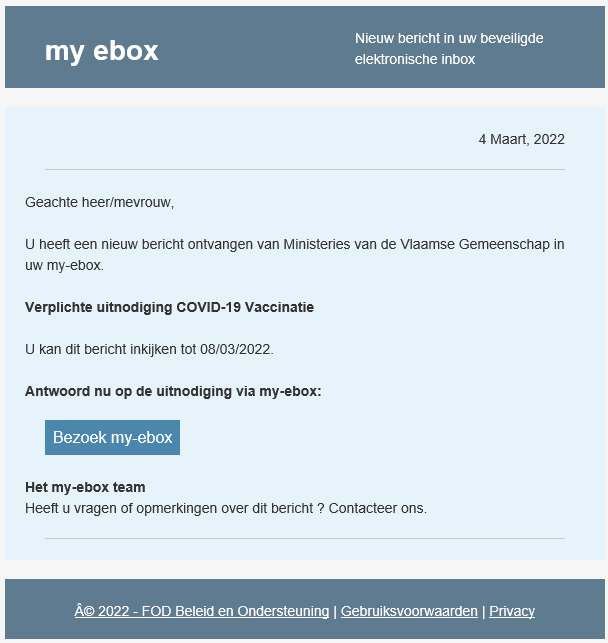 volledige breedte
What to do if you are not sure?
Go yourself via a browser to https://myebox.be.   There you can safely log in to My eBox and check whether you have a new message.
Suspicious messages that mimic a notification from My eBox do circulate frequently. These phishing emails are particularly convincing. Read the warning from My eBox.
The only way to know for sure whether the message is real or fake is to go over the 'button' with your mouse, without clicking. At the bottom, you will see the URL of the website to which you are directed.  In that URL you have to check the 'domain'.  The domain is what is written just before '.be'.  If this domain is Belgium (as in: https://mycitizenebox.belgium.be/myebox/?lang=nl), you will be directed to the real My e-Box website.   If it says something else before .be, the domain is fake and you should not click on it.
What to do?
Do not click on a link in a suspicious message, do not open attachments and do not download applications if you are asked to.
Suspicious emails can be forwarded to 

[email protected]

.
Suspicious text messages can also be forwarded. Take a screenshot and send it to 

[email protected]

. The content is then processed automatically.
Did you click on a suspicious link?
If you have clicked on the link, do not complete the fields and terminate any interaction.
NEVER give out personal codes.
If you have entered a password that you also use elsewhere, change it immediately.
Have you been scammed?
If you have lost money or are being extorted, we recommend that you file a report with your local police straight away.
Contact your bank and/or Card Stop on 078 170 170 (+32 78 170 170 from abroad) if you have passed on bank details, money is disappearing from your bank account or if you have transferred money to a scammer. In this way, any fraudulent transactions can be blocked.