In recent days, we received the first reports of phishing messages that appear to come from Fluvius with the subject line "You are entitled to compensation".  Interestingly, the link in the message has been replaced by a QR code, with clear instructions underneath on how to scan the QR code. However, the result is the same as if you were to click on a link: you are taken to a suspicious website where you are asked to fill in your details. Never do this!
This is the first time we have seen a phishing message containing not a link but a QR code. This is particularly dangerous for unwary users.  When you scan a QR code, you don't immediately see which website it will lead to.  You can check the URL much harder.  
If you get a suspicious message asking you to scan a QR code, be extra careful.  Forward the message to suspicious@safeonweb.be and delete it.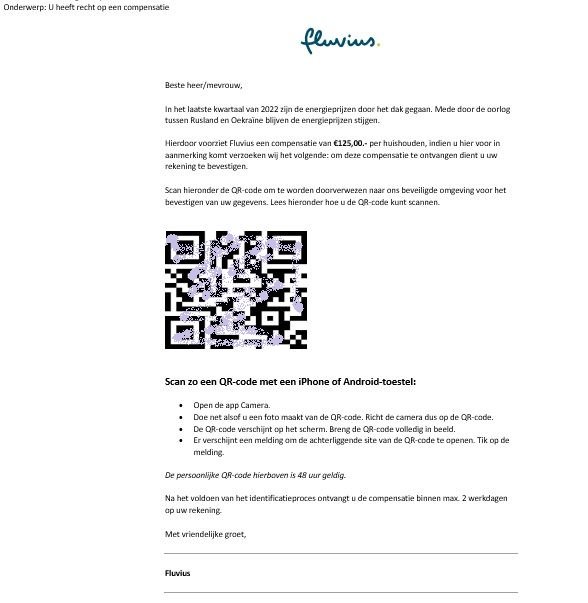 volledige breedte
Don't fall into the trap!
Learn to identify fake e-mails.
Take the phishing test now and don't be caught out ever again!
What to do?
Do not click on a link in a suspicious message nor scan a QR code.
Do not open attachments in a suspicious message.
Do not download applications if you are asked to.
Suspicious emails can be forwarded to suspicious@safeonweb.be.
Suspicious text messages can also be forwarded. Take a screenshot and send it to suspicious@safeonweb.be. The content is then processed automatically.
Did you click on a suspicious link?
Do not complete the fields and terminate any interaction.
NEVER give out personal codes.
Do not download applications if you are asked to.
If you have entered a password that you also use elsewhere, change it immediately.
Have you been scammed?
If you have lost money or are being extorted, we recommend that you file a report with your local police straight away.
Contact your bank and/or Card Stop on 078 170 170 (+32 78 170 170 from abroad) if you have passed on bank details, money is disappearing from your bank account or if you have transferred money to a scammer. In this way, any fraudulent transactions can be blocked.
volledige breedte