As children go back to school, Commissioner Olivier Bogaert warns against cyberbullying. He shares a book that particularly impressed him this summer: « Rumeurs, tu meurs ». A book that he recommends to all parents and teachers. 
The smartphone is becoming more and more important in our lives and especially in our children's lives. As they enter school, this tool will be the first to be used by young people to interact with others. On the other hand, it could also lead to a phenomenon that is worrying, to say the least: cyberbullying.  
To tackle this problem, commissioner Olivier Bogaert, expert in cybersecurity at the Federal Police, introduces us to a book that struck him over the summer and is entitled "Rumeurs, tu meurs".  
The book describes the dramatic story of Alice. She is a very good student and does not hesitate to help her friends when they have difficulties at school. « And one day, she meets Javier, the boyfriend of her best friend Lena. He is kind and seductive. The meeting leads to a big kiss and cuddle that makes Alice very uncomfortable. Lena discovers what happened and posts mocking, insulting or even untrue comments. Content that is shared by her contacts at school but also outside, thanks to social networks. Alice is described as the worst girl in the world and, little by little, she isolates herself. She is so ashamed that she's afraid to talk to her parents or teachers who could help her "Olivier Bogaert says.  
Fortunately, Alice can count on Chloe, a student in her class, and an adult, to deal with the situation. She is able to talk with them about what she is experiencing.
A must-read for everybody 
The Belgian author of the book "Rumeurs, tu meurs", Frank Andriat, wrote his book at the request of teenagers. « Its goal, is to discuss this topic in class and for students to become aware of these situations and especially to report them when they discover that someone is a victim. I can tell you that this book, with its very direct style, has really struck me. Frank Andriat shares the current reality. So I encourage parents and teachers to read it "concludes our expert.
Source : Federal Police.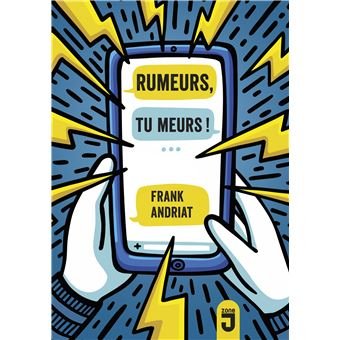 volledige breedte