Have you received an SMS in the last few weeks that appears to be from AG Insurance? Beware, this is a fraudulent SMS.
he SMS tells AG customers that they are going to receive compensation. They are then asked to click on a link that takes them to a fake AG website where personal information is requested.
AG Insurance warns that customers are never contacted by SMS to obtain compensation. The personal information requested by AG is only requested on a secure website and not via a site without authentication.
Have you received a suspicious text message? What should you do?
Do not click on the link in a suspicious message.
Send it to

[email protected]

. We will then be able to redirect the suspect link. Future users will receive a warning message when they visit the fake site.To forward a suspicious SMS, simply take a screenshot and send it to

[email protected]

. 
Too late, you've clicked on the link.
Follow this advice.
If you are the victim of an insurance scam that appears to come from AG, contact the Fraud Department at

[email protected]

.
Example of a fraudulent text message appearing to come from AG Insurance: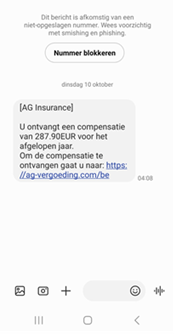 volledige breedte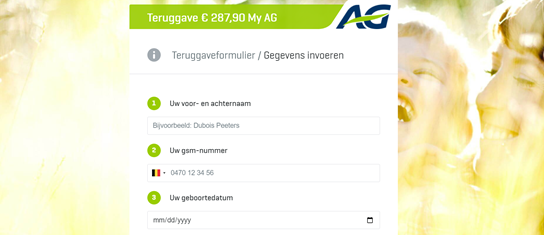 volledige breedte
More info on phishing?
Learn to recognise suspicious messages: go to https://surfwithoutworries.safeonweb.be/en/modules