Cybercriminals want to direct you to their websites so they can steal your personal information and bank details. They can then take over your accounts or steal money from your bank account.
Nobody visits fake websites because they want to. They're tricked into doing so by phishing messages. Cybercriminals send out fake messages with links to their websites. By using intimidating messages or making offers that are too good to be true, they lure you into clicking on their link.
This should be avoided, which is why it is important for you to learn to recognise fake messages. We have listed the most important tips in a handy overview.
Beware of fake websites
Some phishing messages are so well written that they are very difficult to identify. Because we're used to browsing quickly we sometimes click on a link by accident. Too late? Not necessarily!
When you click on a link in a phishing message, you will be redirected to a fake website. The data you enter here will be misused by cybercriminals to take over your accounts or to steal money from your bank account.
That's why it's always important to be vigilant online, especially when you are asked to enter your password or your bank details. So please follow these tips:
Be careful when you are asked to complete your password or bank details on a website


 

Check the domain name in the website's URL. You will find it at the top of the page. Is the domain name (the word before the .be, .com, .eu, .org, ... and before the first slash "/"), really the name of the organisation?


 

In the URL "https://www.safeonweb.be/tips" the domain is "safeonweb".

In the URL "https://www.safeonweb.tips.be/safeonweb" the domain is "tips" and will lead you to another website.


 
In the example in the photo, the domain name is "kbc-touch", which is not your bank's real name!
<Here you can add the YouTube TIP>

Instead of clicking on a link in a message, please search for the right website yourself!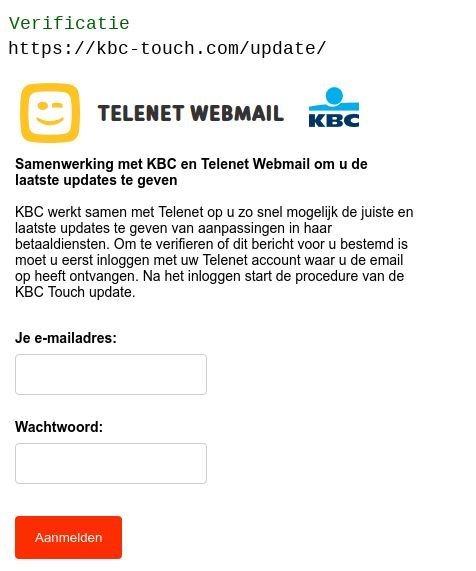 volledige breedte
Too late—you have already entered your details
Warn your friends that you have sent them a fake message.

If you have entered a password that you also use elsewhere, change it immediately. Change it everywhere you use it.

If you have entered your credit card or debit card details, notify Cardstop (

www.cardstop.be

or 070 344 344) and contact your bank immediately, to block your last payment and possibly also your account.

If you notice that money has been stolen from your bank account, be sure to file a complaint with the police.

Forward the suspicious message you clicked on to [email protected]
Beware of viruses
Some links contain viruses. So it's important never to click on links in fake messages!
(Video only available in French and Dutch)
1