Last week the FPS BOSA warned about suspicious messages that seem to come from My e-Box. We notice that many citizens receive these messages and forward them to [email protected]. That is fine, because we can block the suspicious links in these messages.
We also notice that many real messages from My e-Box are reported to us. That is not a problem. If you are in doubt, it is better to be careful, but of course, you don't want to miss a real message from My e-Box.
What to do if you are not sure?
Go yourself via a browser to https://myebox.be.   There you can safely log in to My e-Box and check whether you have a new message.
How can you know if a message that seems to come from My e-Box is real or false?
The only way to know for sure whether the message is real or fake is to go over the 'button' with your mouse, without clicking. At the bottom, you will see the URL of the website to which you are directed.  In that URL you have to check the 'domain'.  The domain is what is written just before '.be'.  If this domain is Belgium (as in: https://mycitizenebox.belgium.be/myebox/?lang=nl), you will be directed to the real My e-Box website.   If it says something else before .be, the domain is fake and you should not click on it.
Be careful
The false message that is circulating is very well imitated.
At first sight, you cannot distinguish a false message from a real message. The form and layout are identical.
It seems to come from the correct e-mail address, [email protected]. This is indeed the address of My e-Box that was forged (spoofed) by cybercriminals. It looks credible, but it is false.
It does not contain any other errors.
In the fake message you are addressed with Dear Sir/Madam, but not with your name.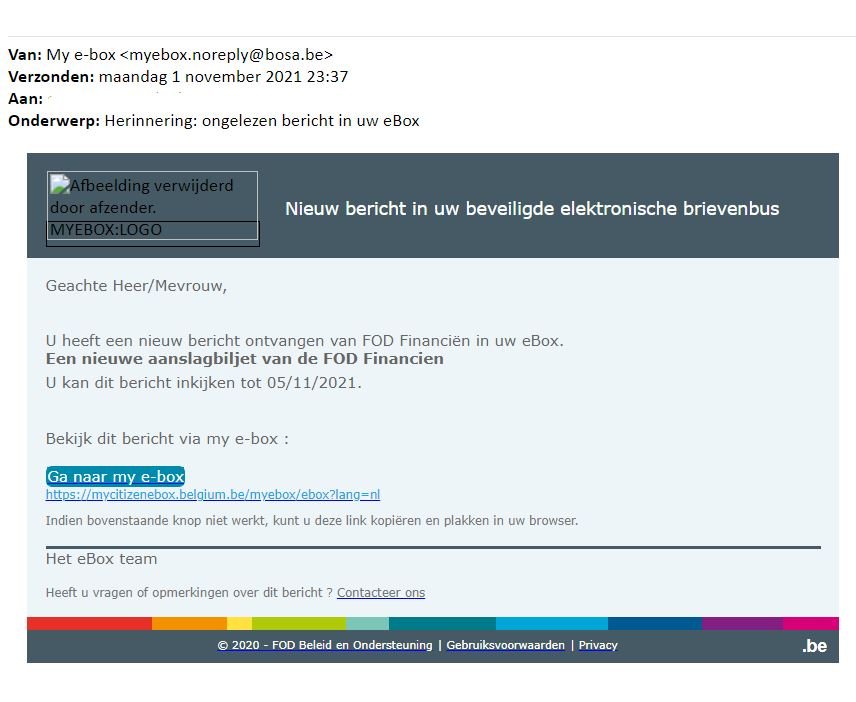 volledige breedte