We have received several reports of messages purporting to be from Sodexo via an address such as "noreply.publicvouchers.be@app.sodexo.com", the content of which is similar to the one illustrated below (data to manage your customer area).
[translation] You are asked to confirm or deny your personal data in the Civil Status Register on behalf of a public body, in this case the Flemish Region, for the management of your service vouchers via a so-called "secure" area leading to a fraudulent site.
The idea is to urge you and to encourage you to hand over your bank details.
There is only one thing to do: never click on the link and above all do not enter your data!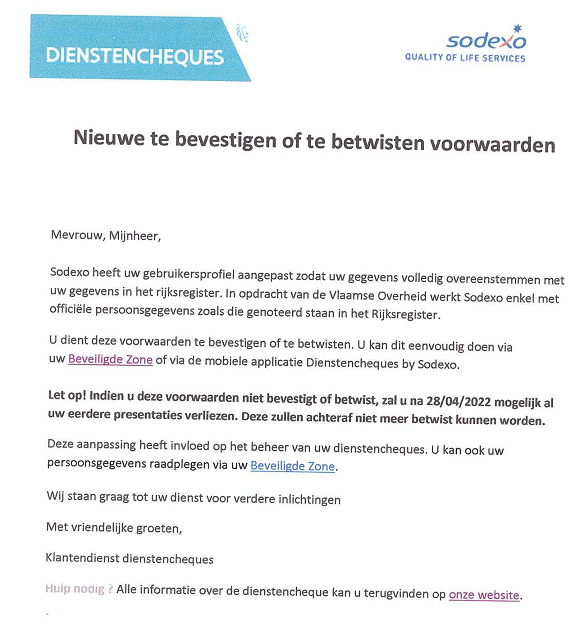 volledige breedte
Have you received such a message yourself? Do not panic.
Do not reply to the e-mail.
Keep the e-mail or print it out and report it to the police.
Mark the message as SPAM or unwanted.
Block the sender.
You received such a message and reacted to it. What to do now?
Contact your bank and/or Card Stop on 078 170 170 (+32 78 170 170 from abroad) if you have transferred money to the fraudster. That way, any fraudulent transactions can be blocked.
If you want to report fraud, you can contact your bank.
File a report with the local police in your place of residence. Collect as much information as possible and take it with you when you go to make a report.