Crypto coins are virtual coins. There are currently hundreds of crypto currencies, the best known of which is Bitcoin. Recently, public attention for Bitcoin has risen sharply. Investing in crypto currencies is popular, but it is also causing more people to get scammed. Protect yourself by following our tips in this blog!
Those who want to invest in Bitcoin should contact their 

bank

. Banks can provide advice around the possible investment risks, and inform you about safe platforms to buy crypto coins. 

If you find that money has been stolen from your bank account,

report it to the police.

If your rights as a consumer or company have not been respected, or if you are the victim of deception, fraud or a scam, you can contact 

Report
Cryptocurrencies and phishing
Hackers use cryptocurrency and Bitcoin as bait to lead you to websites that steal your banking information or are able to install viruses on your computer:
Cybercriminals respond to current events and know which topics interest us. Therefore, always be on your guard when you receive suspicious messages with links on a current topic. Bitcoin is constantly in the news, making it a popular topic for cybercriminals.
 

Phishers fool victims with offers that are too good to be true. Messages promising that you can get rich quick with Bitcoin are best not trusted.
Learn to recognize fake messages and avoid becoming a victim of phishing. 
Below are some examples of phishing messages around Bitcoin. 
FPS Economy warns: "Get rich quick with cryptocurrencies or lose it all with corrupt coins?"
For the year to date, almost 2.2 million euros in lost money has been reported to the Report hotline of the FPS Economy and to the FSMA by at least 118 victims. And that is likely to be just the tip of the iceberg, as there is a 96% dark number for fraud reports; in other words, only 4% of fraud is reported. So the total estimated annual financial loss from cryptocurrency fraud is around 130 million euros (SOURCE: FPS Economy).
Follow the tips from FPS Economy to avoid cryptocurrency scams: 
Make sure you know who you are dealing with.

 Check your counterparty: is there a website? How old is it? What individuals are behind it? If you suspect it is a website offering crypto currencies, look up whether the website is known for fraud at 

temooiomwaartezijn.be

. Can't find reliable data? Then don't deal with this counterparty. Your safety is too precious.

Never share personal information.

 Scammers often ask for a copy of your ID card, a photo or proof of your residence. Sometimes they claim this is required by law. In any case, don't give this to them.

Ask for clear and understandable information from your interlocutor.

 And be critical when looking at that information. Take your time before accepting an offer, and certainly don't allow yourself to be rushed or intimidated.

Be wary of (promises of) excessive profits.

 If a return seems too good to be true, it usually is. Profit is never guaranteed.
More information (in French or Dutch).
Cryptomining and cryptojacking
To obtain Bitcoin or another cryptocurrency and thus make money, a computer must perform many calculations that require a large amount of energy (CPU). For these calculations, a computer or smartphone is rewarded with Bitcoins. This process is called cryptomining.
Since the number of calculations needed to make money is very high, more and more devices are needed to perform these calculations. This is precisely why miners try to gain access to your device and then use it to collect crypto coins without your knowledge. When this happens we talk of cryptojacking.
Follow the tips in 'My device is being used for cryptojacking' to know if your device is being abused for cryptojacking and how to prevent it. 
Too late! Already entered your details?
Alert your friends that you have shared or forwarded a fake message

If you have entered a password that you also use elsewhere, change it immediately. Change it everywhere you use it.

If you have passed on credit or bank card information, immediately notify 

Card Stop 

on

078 170 170 (+32 78 170 170 from abroad).

Contact your bank

 so that the latest payment and possibly the account can be blocked.

If you find that money has been stolen from your bank account, 

report it to the police.

Forward the suspicious message you clicked on to

 suspicious@safeonweb.be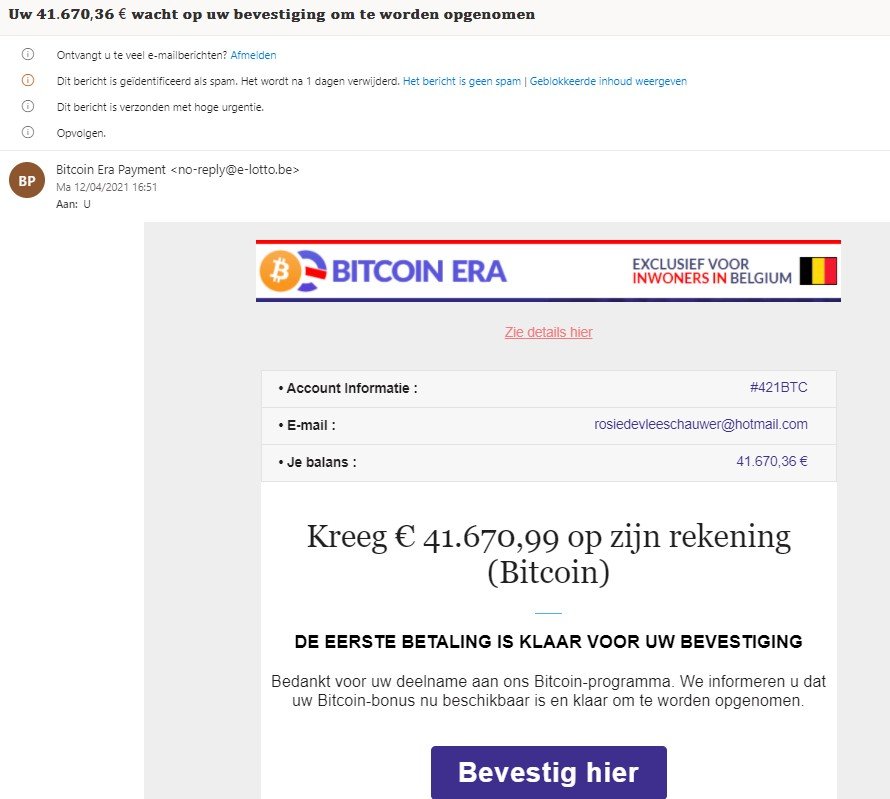 links uitlijnen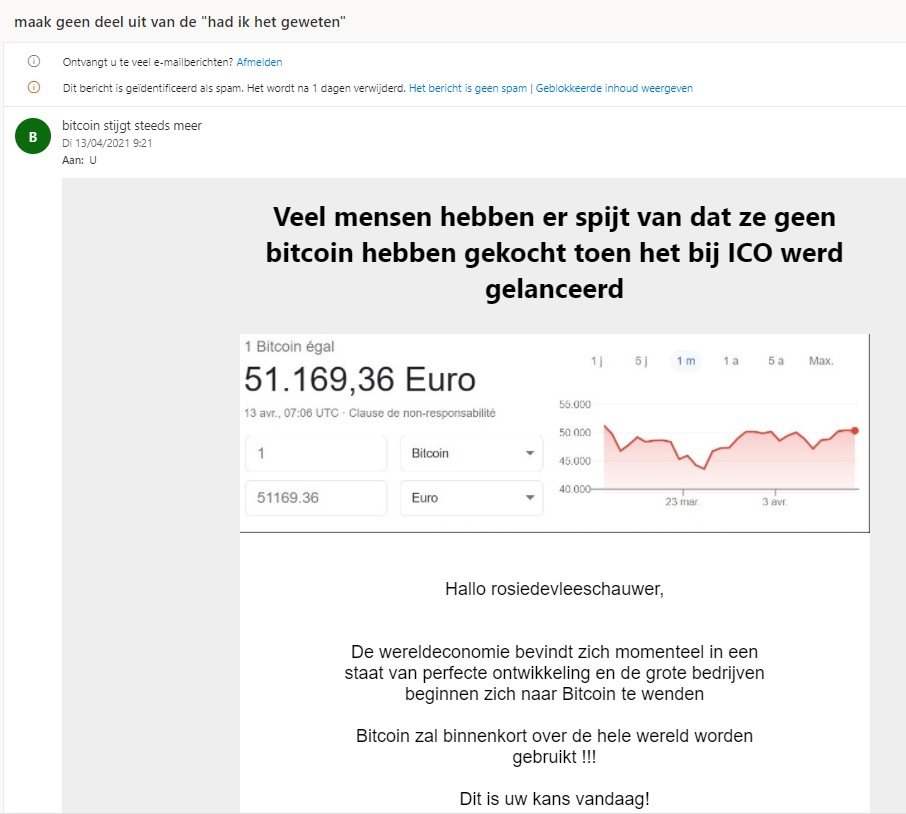 links uitlijnen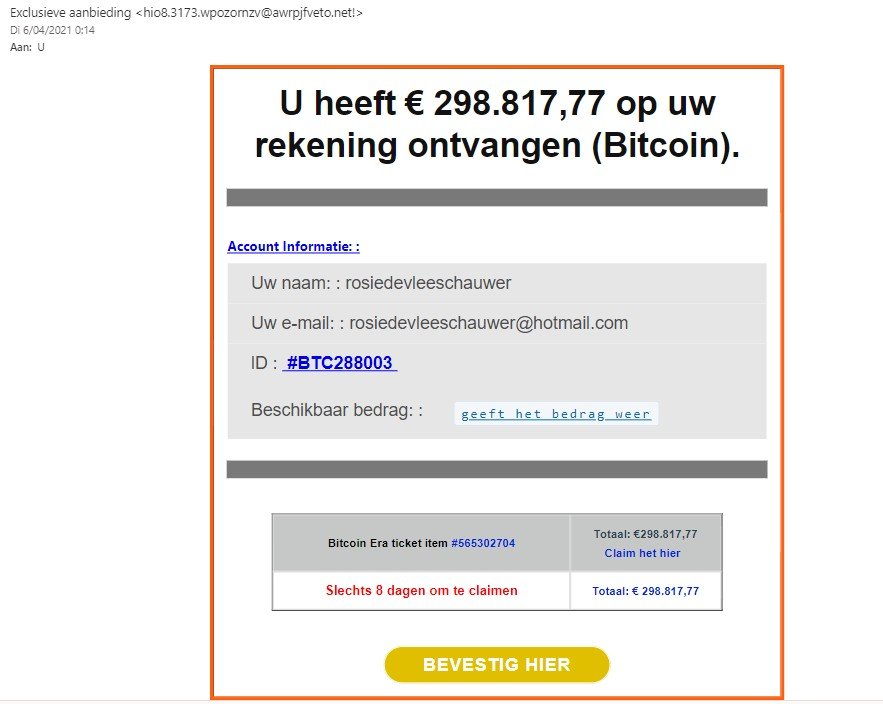 links uitlijnen