All is not rosy with the digital health of the Belgians. But the solution is as simple as putting on your track shoes. You don't even have to get out of your chair!
We are justifiably proud of our Rode Duivels! And equally proud of our other national teams and athletes who also score high in popularity. Belgium is right up there in the charts as a sporting nation and not only do we cheer our athletes on, they also inspire us to do better ourselves: sports clubs are full and more attention than ever is being paid to healthier lifestyles. Because when it comes to sports, Belgians want to be at the top.
That is less the case concerning our digital health. When it comes to cybersecurity, we're not even in the game. In comparison to other countries, we're hopeless, we haven't got a clue – like infants just messing around in the sandbox.
If digital fitness were a sport, we'd have been defeated ingloriously by the first round. Shocking, really, because there's no other discipline in the world in which you can get so fit with so little effort. With only a couple of clicks of your mouse, you can get yourself into top digital condition and make yourself strong as Lukaku, at least online.
Happy Happy Land versus WannaCry
It's a strange phenomenon. Newspapers, news websites and social media are chock full of warnings about cyber threats. And yet we all frolic naively through the digital world as if it were one big Happy Happy Land inhabited only by people and algorithms who wish us well. And we act like children taking rides from strangers when we click on links in emails from people we don't know – or even from people we do know if the message seems odd – without checking if the message is bona fide.
Take this, for example: 12 May 2017. The world is introduced to WannaCry when a bit of ransomware – a hostage-taking virus – infects computer systems in 150 countries with unprecedented speed. The files on over 300,000 devices are suddenly made inaccessible. Victims have a choice: pay to get their data back or lose it all. That the virus could attack so mercilessly had everything to do with the lax attitude of computer owners. It's true that WannaCry also exploited a known vulnerability in IT systems but that was a vulnerability that could easily have been remedied by doing timely backups and updates to our protection software.
That one should not wait too long to do these was forcefully brought home to a school in Roeselare last month: its network was hacked into via a similar soft spot in the system and a ransom was also demanded there. Fortunately, the damage was minimal because the necessary backups had been made, but the 3,000 pupils and 450 staff members experienced considerable disruption.
The one-minute workout:

updates and backups
Does a lack of computer expertise play a role in deficient digital health? Most certainly. Many people still feel uncomfortable with technology. Their attitude is: "If it ain't broke, don't fix it." But it is precisely this way of thinking that we have to turn around. Because if you don't fix it today, it will no longer work tomorrow. Or worse. And then you've lost your money, your data or your reputation – or maybe even all three.
You don't have to be an expert yourself. There are computer experts out there who write programs to prevent viruses from even gaining access to your system and other programs to check whether you already have a sleeping virus or Trojan that can suddenly pop up and harm you in the future. And just like immunologists, there are experts out there who are monitoring the cyber world all the time, 24/7 to catch the slightest whiff of potential infection and ensure that you are immunised and protected against it. Just as you don't have to be a gourmet chef to eat in a fine restaurant, you don't have to know about these viruses and Trojans to use the protection software that is readily available – even for free – to help ensure your digital health.
The health routine is dead easy. Install reputable software to check your system for viruses and malware as well as a reliable firewall. Regularly carry out updates and make frequent backups of your data: that's the combo that will protect your operating system and files. And it won't even cost you any effort to speak of. It's as easy as just putting on your sports outfit to get fit. Too good to be true? Nope. Digital health is really as easy as that! Even better: get fit while you sleep! Because if you set up your computer or smartphone to do them automatically, virus checks, backups and updates can even be done overnight.
Everybody healthy and ready to play
Nothing in the world is 100% safe. Not least in the digital world. But don't let that stop you from enjoying it to the full. Just be alert. A few rules of thumb will get you a long way. October is cybersecurity month. There couldn't be a better reason to do something about yourself and your computer(s). It hardly takes any time at all, so you've no longer got any excuse to put it off. Visit safeonweb.be and see how well you're doing by taking the digital health test. You'll also immediately get tips for improvement if you need them.
If we all start doing routine checks, updating, backing up and following a few simple security tips, our national digital health index will soar... A quick but thorough check-up in October, and we'll end up a whole lot fitter and stronger. In the blink of an eye, our country will be less vulnerable to the dirty tactics of cyber criminals and we will become as legendary as our Devils. Once we are at the top of the league with our digital health, we'll all know how easy it is to get there and stay there. In just one minute. Seriously.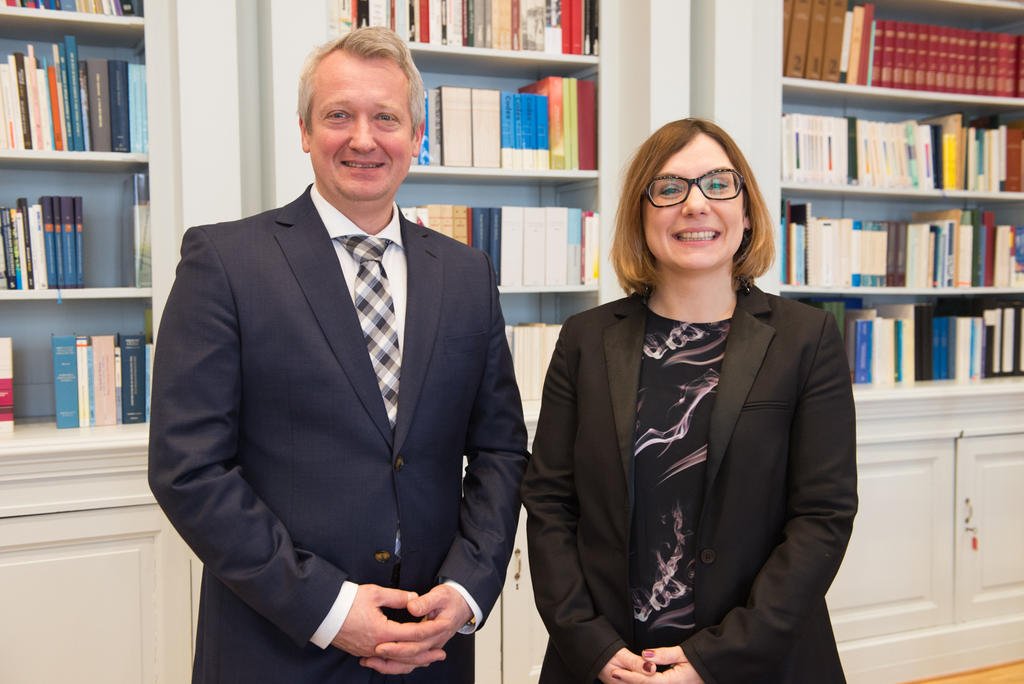 volledige breedte
Miguel De Bruycker, director Centre for Cybersecurity Belgium
Phédra Clouner, adjunct director Centre for Cybersecurity Belgium